landscaping
Does your landscape need a revamp? Are you building a new home? Whatever your needs might be, let our experienced landscape crew transform your yard! We offer professional landscape services for both residential and commercial projects. Whether you are in need of a complete landscape installation, or just want a few trees planted, please give us a call!
Landscape Design
Residential and Commercial Design
Patios and Walkways
Pavers
Retaining Walls
Natural Stones
Flagstones
Foundation Plantings
Fire Pits and Outdoor Fireplaces
We strive to meet our customers' needs, stay within budget, and our experienced staff provides detail-oriented service throughout the entire process! We encourage you to schedule services early; spring is an extremely busy time for us!
Email us at [email protected] 0r call 608-780-7490 to set up an appointment.
Design fees
Our fee for professionally designed landscape plans within La Crosse County is $199. This fee includes a Design Coupon for 10% off a one time plant and material purchase for your landscape.
When you hire Trees Today to install your landscape you get 15% off your plants and materials. Spend $1,500 or more on plants and materials and get your design FREE.
This design fee applies to an average-size landscape around your home or business; this is our most popular design option. Additional fees may apply for designs outside of La Crosse County, large properties, or very complex designs. We can give you a free, no obligation estimate for design fees.
If you just need advice, or a simple lay out for the front of your home, our knowledgeable garden center staff will be happy to help! We can help you choose your plants and help you with a simple lay out if needed.
Retaining Walls, Patios, & Walkways
Retaining walls can be built with a variety of materials: pre-cast block, natural stone, or cut stone. We proudly carry Borgert and Anchor retaining wall block and natural stone from many suppliers. And we are experts at installing it! Hire us to design, engineer, and install a new retaining wall, or we can remove and replace an old wall too! Professionally installed retaining walls are built to last for years and years, providing function and appeal for homeowners and businesses alike.
We have many material and color options for patios and walkways, including brick pavers, cobblestone, flagstone, and cut stone. Transform your backyard with the addition of a flagstone patio, or add curb appeal with a brick walkway leading to your front door.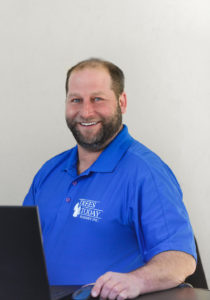 Hi, I'm Kevin Sonsalla, Landscape Designer at Trees Today Nursery. This is my 7th year with Trees Today and 20th overall in the landscape industry. In 2014 I received a degree in Architectural Technology from Western Technical College to further my design skills. I have the experience and technical expertise to work all aspects of a project – from design to installation to overall project management. I have the skills and talent to create a functional landscape design and I am passionate about the quality of the overall project.  I take pride in creating a landscape exclusively for my client. I live in West Salem with my adorable two children. My free time is spent fishing and enjoying the beautiful outdoors in the coulee region. Email Kevin at [email protected] 0r call 608-780-7490 to set up an appointment.