Protect your trees now!
Protect Your Trees Now From Japanese Beetles And Emerald Ash Borer! We Offer Two Options For Protecting Your Trees.
1- Do-It-Yourself With Optrol.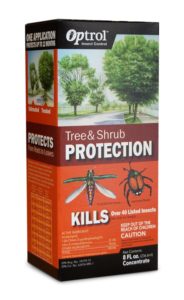 Optrol is the product of choice for tree care professionals. It is the only retail product that provides the killing power needed to control Japanese Beetles and Emerald Ash Borer on all sizes of trees.
Optrol is a broad spectrum, easy to use, highly concentrated systemic insecticide that utilizes the proven performance of imidacloprid. It provides 12 months of protection and controls a wide variety of insect pests including Japanese beetles, Bronze Birch Borer, Emerald Ash Borer, Birch Leafminer, White grubs and more.
Optrol allows the highest application rates in the industry for maximum, research proven protection against the most difficult tree pests. It is great for small jobs or single trees. Just measure the amount you need for a tree, mix it with water, and apply.
2- Hire Our Certified Arborist To Protect Your Trees!
Our Certified Arborist Provides a 2 year Tree injection to prevent:
• Emerald Ash Borer
• Oak Wilt
• Dutch Elm Disease

• And other pests, diseases and fungi
Our Arborist Can Also Help You With:
• Tree planting
• Tree pruning
• For structure of young and old trees
• For clearance of buildings, roads, and walkways
• Tree removals
• Hedge and shrub trimming
• Tree Inspections
Email Mark at [email protected] or call 608-780-6810 to set up an appointment.